Creating a comfortable steam humidity environment with the best steam humidifier helps control many uncomfortable problems that result from dry air. Relatively, in winter months, the air is generally dry and cold and this affects us most especially babies. Adding a steam humidifier to your room will do you good as it humidifies cold air into warm air.
However, purchasing a humidifier that delivers steam vapor is a worthy investment. But involve a series of comparisons and reading of reviews to find a good steam humidifier. Many find this process challenging as many factors need to be accounted for. Starting from prices, coverage area and specific features make one unit differ from the other. However, one needs to be careful in order not to be short-changed by the myriad of the various factors to be considered.
Whether you are knowledgeable or not with relevant aspects of humidifiers, the humidifiers buying process has been made simple by various online blogs talking about guidelines and how you can pick the best products. However, we are among these blogs that have also make the humidifier's shopping process simple.
Without stressing words, our best steam humidifier review is for consumers looking forward to adding steam mist into their home. These humidifier reviews aim to let you see top products from different brands of humidifiers and further help you decide on which unit fits into your budget and home coverage capacity.
Hence, we first introduce you to our steam humidifiers comparison chart. This chart is designed for consumers' on a busy schedule that needs to shop one quickly and go about their business. So, if you don't fall into these categories, we advise you to read each review for a better understanding of each humidifier.
Best Steam Humidifier Comparison Table
Reviews of Top 6 Best Steam Humidifiers on The Market
1. BONECO Steam Humidifier S450
Boneco s450 steam humidifier is designed for rooms up to 850 square feet humidification. From 3.5-gallon water, the reservoir delivers steam up to 24 hours relieving you from dry sinuses and elimination of too cold air. Unlike most warm mist humidifiers that release hotter mist. Boneco delivers children friendly mist that won't burn children, thanks to its hand-warm mist output.
Most importantly, it is equipped with intelligent features such as automatic mist technology and ECON MODE that ensure ecological operation. Also feature hygrostat that automatically regulates output thereby ensuring desired relative humidity. Besides, switch on/off time can be determined by using the timer settings.
Our plus for this
No filter to wash or replace.
Self-cleaning mode.
Programmable hygrostat.
Anti-mineral pads.
Friendly for children's environment.
Reminders for water refills and cleaning.
Bacteria and mineral-free air to breathe.
It can be mounted directly on the floor.
Check Price On Amazon
2. Honeywell HM750A1000 Electrode Steam Humidifier
If you are looking for a wall-mountable or induct steam humidifier, the Honeywell electrode steam humidifier is a product to look out for. The simple footprint is easy to install humidifier with just one-step procedure. This industry-leading steam humidification device also features a pre-mineralized cylinder for quick start and check up for use.
Our plus for this
No refilling as it uses water from the home water supply system.
Easy installation required.
Innovative design is great for modern homes.
Low running costs as in inducting steam humidifier.
Check Price On Amazon
3. Vornado Element A Air + Steam Humidifier
Vornado is designed for whole room humidity needs with coverage up to 1000 square feet. If your room-sized is within this coverage area, purchasing the Vornado element A Air + steam humidifier will rightly humidify your space efficiently.
The Vornado uses vortex action for even humidity circulation while also use it's automatic humidity control features to regulate output for desired humidity.
Also, with this humidifier, you can customize mist types such as cool, warm, or steam depending on your home condition. For those that often suffer various forms of allergies due to dry air. Purchasing this humidifier with three mist options will save you the cost of purchasing different units.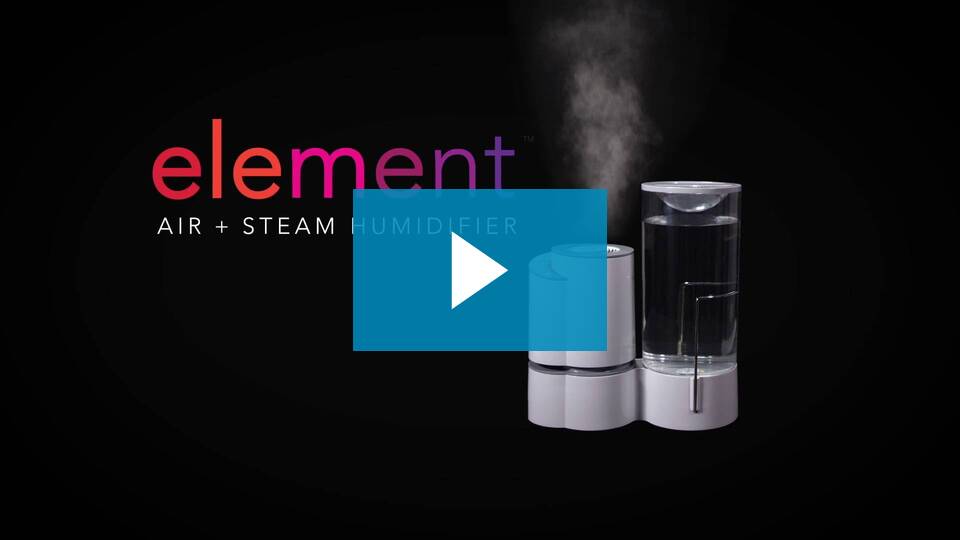 Vornado Element A Air + Steam Humidifier | Sylvane
Our plus for this
The humidifier turns off automatically.
Up to 24 hrs of humidity from a 4-gallon capacity.
5-year back-up.
Easier tank refills and cleaning.
3 steam customization level.
Check Price On Amazon
4. Aprilaire 800 Residential Steam Humidifier
You can stop bleeding nose, dry-out eyes, and host of other problems associated with the dry environment using a humidifier. However, creating a steam mist in a whole house requires a unit designed for such needs. Aprilaire 800 residential steam humidifier is recommended for such coverage area if you think of getting a steam humidifier to power your entire home.
One unique feature about this Aprilaire steam humidifier, it runs independently without connecting it with HAVC systems, yet able to humidifier larger homes measuring up to 6,000 square feet.
With this 800 Aprilaire model of a humidifier. Your home will receive optimum levels of humidity as it uses its automatic digital control to do this for you. Also, when talking about a steam humidifier that performs quietly, Aprilaire ranks high on the list.
Also, when most humidifiers are expensive to maintain, the residential steam unit requires a yearly replacement of the canister and simple maintenance.
Our plus for this
Ideal for larger homes or whole house humidification.
Uses any type of water.
Automatic humidity control, although manual mode is also available
Check Price On Amazon
5. Vicks Warm Steam Vaporizer
If you are looking for a steam vaporizer to relieve you from symptoms of cough or cold for easier breathing and restful sleep, Vicks warm steam vaporizer provides faster results. This unit can be used with Vick vapor steam or Vapopads for added soothing reliefs.
Furthermore, equipped with easy to use operation featuring automatic shut-off. Making Vicks steam vaporizer good for children's rooms' safety.
The Vicks product is also easy to maintain the unit. No filter to clean or change as it uses a de-mineralized cartridge to get rids of water impurities for safe air.
Our plus for this
Ideal for rooms with little space.
24 hours run time.
Safety features.
No filters.
A night light that compliments sleep.
Releases soothing vapors that improve cold, cough, etc.
Check Price On Amazon
6. Emerson HSP2000 Whole House Steam Humidifier
The emerson hsp200 is another whole house steam humidifier for homes measuring approximately 1,400 sq. feet.
The energy efficient unit features automatic humidistat that tailors output level to desire level for a favorable indoor condition.
While most competitive models require you cleaning it yourself, Emerson features an automatic flusher that does it for you.
Other features of the steam humidifier include water filter, fan control relay, saddle valve, blower's safety switch and mounting frame.
Check Price On Amazon
In conclusion,
We hope this review will able to help you in finding the best steam humidifier.
Reference – wikipeida point
http://airhumidifierspot.com is also a check reference resource point.